- Improve your terminal operations with the TGIBOX -
Real time geolocalization of container handling
and all equipments on maritime terminals
Made in France, TGIBOX is a hardware and software solution dedicated to Container Handling Equipment geolocalization which provides you reliably and precisely, the position of handled containers. Your terminal operations management are in that way optimized in the most efficient manner.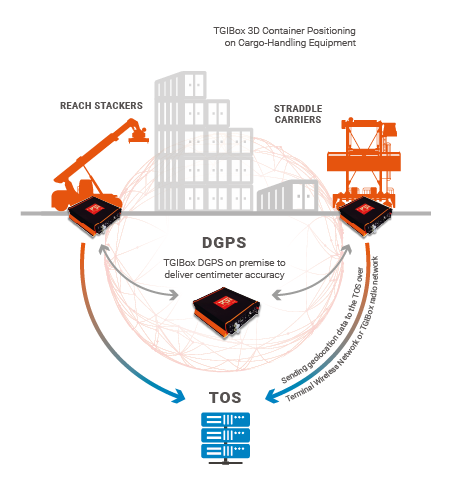 "We designed our TGIBox to address two pain points expressed by all our customers : Make the job of container handling equipment drivers easier and get a timely and accurate inventory of the container yard. The TGIBox provides an effective solution fix these issues. We paid particular attention during the development of this product to get accurate positions wherever on the terminal, to embark a reliable radio network, and to interface easily with any TOS. We wanted for our customers a powerful and reliable system, that we can guarantee for a long period of time."
Marc BOYER CHAMMARD, CEO - TGI Maritime Software
Your resources are optimized, your productivity exponentially improved
How does it work? A central TGIBOX communicates in real-time with each TGIBOX in Container Handing Equipment (CHE) to get the DGPS position of each container at the time of spreader locking and unlocking. Thanks to a smart algorithm and good communication systems, containers positioning at time of event is converted into Yard position and transmitted to the TOS, making your terminal operations management easier.
Your specific requirements and informations are taken into account
Each container moved by Container Handing Equipment is automatically checked at the time of locking and unlocking move. Thus, CHE position and containers positioning are transmitted in real-time to your terminal operations management system. As manual entries are avoided and the positioning of containers on the yard delivered in real-time, our solution makes your driver's life easier.
You can take advantage of a rapid return on investment (ROI)
The flexibility of our solution allows data transmission via the communication media of your choice (WiFi or narrowand network).
Made in France, TGIBOX aims at being a durable product of superior quality ensuring a lower cost of ownership and a rapid return on investment. You will quickly see improvements in speed in reliability and your terminal operations management will take advantage of a real-time inventory yard from a single box. Once installed on your terminal, our teams remain at your disposal to guarantee a quality and reactive after-sales service.
"Thanks to the TGIBOX, we have seen improvements in speed and reliability. We observe an average of -90% containers in error. Drivers save time each time they perform a container move. TGIBOX is a reliable and scalable solution that allows an easy access to the yard reports."
Willy Techer, Delivery Manager SOMACOM - Island of Réunion
We think you'll love work with us.
We implement our solutions ourselves
At TGI Maritime Software, we are committed to provide easily customized solutions that meet your company's needs and make your container terminal operations management smoother. Our experts' teams will support the execution and implementation of all aspects of your project from the outset.
We provide and install all the equipment you need
We work in partnership with technology leaders to provide the most advanced, secure and reliable equipment (radio network, server application, hand-held terminals, etc.). Our solution works on IBM Power server, widely recognized for its robustness and its low cost of ownership. We implement either narrowband or wifi radio communication systems depending on your needs and budget.
We train and support your teams
We know how important it is that your team get the best from our softwares to have a better terminal operations management. Our customized training programs ensure fast adoption of our solutions by your users. We keep supporting your teams with first class support services day after day.
We ensure full maintenance and improvement
Our teams have developed an in-depth professional knowledge through years of experience in the maritime industry. Always concerned by quality and innovation, we are totally dedicated to maintenance and improvement of our software, in order to make your terminal operations management the easier possible.