Improve your performance with our container and Roro TOS
built for small to medium terminals.
Discover our solutions dedicated to marine,
river and intermodal terminals.

40
years of experience

50
clients and terminals worldwide

40
motivated employees
Our solutions' features

State-of-the-art container Terminal Operating System.
02
Roll-On/Roll-Off (RORO) vessels management

Manage RORO vessels and general cargo.
03
Vessel and Yard operations

Manage rapidly and efficiently, vessel and Yard Planning

Operate your yard and handling equipments on an interactive and at-scale map.
05
Automatic picking and placing
of containers

Collect containers and handling equipment position in real time
06
Real-time performance dashboard
Access to reports and notifications for smart business decisions.
07
EDI/ API interoperability

Easily share information with your partners per international standards or based on your specifications.

Create in a few clicks customer tariffs, manage automatically customer invoicing.
09
On-premise / in the Cloud

Install our solutions on your network or opt for in-the-cloud solutions… It's up to you!
What clients say

"OSCAR is less complex and more user-friendly than other TOS and Client Support delivers high quality services.»

"OSCAR is a complete software which allows a real-time control of all our maritime operations in Cotonou. Its user-friendly interface couldn't be easier to use for our teams TOS."

"Thanks to the TGIBOX, we have seen improvements in speed and reliability. Drivers save time each time they perform a container move. TGIBOX is a reliable and scalable solution that allows an easy access to the yard reports."
Latest blogs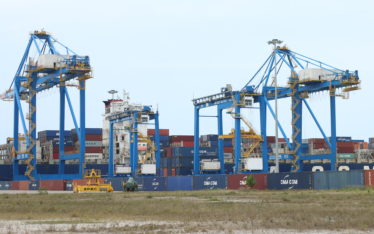 Following promotional initiatives over the past four years by the WCO (World Customs Organization) for customs procedures digitization, Cameroon has been focusing on modernizing all of its customs services.  The new computerized system for the dematerialized management of customs activities in Cameroon called CAMCIS (Cameroon Custom Information System) makes it possible to strengthen the capacity of customs administrations to communicate and to access to an optimum management of goods flow.  Kribi Containers Terminal (KCT) has been working closely with TGI teams to adapt OSCAR Terminal Operating System (TOS) to this new digital customs system by providing optimal adaptation to new customs regulations.   OSCAR Terminal Operating System adaptation to new procedures is:  Automated: human intervention is limited as much as possible to maintain fluidity utilization  Directly integrated to OSCAR Terminal Operating System: processing is part of...