7 reasons our Maritime Software packages can handle all of your operational challenges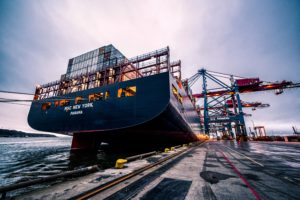 ---
We are a leading provider of maritime software for small and medium maritimes terminals, fully dedicated to streamlining maritime operations. Our goal is to ensure that your terminal always runs at its full potential.
Thanks to our maritime software packages (OSCAR, MARCO and TGIBOX),  you will optimize your land and sea operations by achieving standard market productivity levels and optimize the occupancy of your land fleet, fleet machine and port equipment management.
Our maritimes software packages also improve your administrative and financial management. Indeed, with MARCO you will be able to track and optimize your revenues and costs, easily manage all your employees' administrative data and make the most effective planning decisions. We know that being able to fully track your equipments performances is important to you. That is why we engineered the TGIBOX, which offers you a 3D positioning of your containers. Thanks to TGIBOX, you can manage container pick-ups and drop-offs more quickly, efficiently and safely and make your drivers' work easier. Also, our maritime software OSCAR has been designed to cater for all cargo types, not just containers. OSCAR caters for multiple container types, including flat racks, powered (reefers), and hazardous containers and wheeled cargo, such as automobiles, trucks, semi-trailer trucks, trailers, and railroad cars.
Here are 7 reasons our Maritime Software can handle all of your operational challenges:

  1. We offer scalable, reliable and flexible maritime softwares
Design and functionalities of our maritime softwares fully comply with your terminal's requirements and specifications. OSCAR, MARCO and TGIBOX can be customized to fit your business. Software customizations are easy and intuitive. Our maritime softwares make it easy to modify and scale your operations so you can quickly make changes throughout your terminal.
  2. We provide real-time data and geolocalization
Our maritime softwares provide the complete picture of what's actually going on in real-time throughout your terminal. Real time data is available at any time without any delay, including operations optimization, yard and Vessel management, reporting, radio data terminals and GPS systems.

 3. We guarantee a unified and easy user experience.
The user interface of our softwares follows the same logic of operation throughout all its modules and submodules. Our softwares are intuitive and easy to learn. We can train your whole team in a few days so that you can get back to your business quickly and focus on your operations.
4. We deliver intelligent planning over land and sea
Our maritime softwares maximize berth use and provides visibility into potential conflicts and inefficiencies. You will be able to find the ideal positions for vessels and create smart plannings which ensure the fast and safe discharge of containers. We allow you to view your yard on a real-time, at scale and interactive map.

5. We deliver feature rich maritime software and functionalities
Our maritime softwares have all the features that you expect from a Terminal Operating System (TOS), such as container inventory, gate processes, electronic data uploads, yard and vessel planning, etc… Our goal? Allow you to handle more containers per hour and more vessels per day so you can sell more of your services.
6. We help you looking at the future
We show you how to best manage your operations for profitability and efficiency by providing key performance indicators to help you make profitable decisions. Our maritime softwares are constantly collecting data about your operations. Data is used to find the optimal way to complete tasks today, tomorrow and beyond. Thus, you always know how optimal your plan is by reviewing your KPIs.
7. We inform you of every updates and upgrades our teams implement
Our teams work side by side with the product, design, and engineering departments to improve your customer experience. At TGI, we know the business inside and out and we want to stay engaged with our customers throughout our relationships. Our hotline support is always available for any questions you might have.