Looking for a Smart Terminal Operating System ?
Stay competitive
As a terminal operator, you are under immense pressure to stay competitive, increase your operational efficiency and differentiate your services with superior delivery performance
Plan agile operations
You need a Terminal Operating System which enables your planners and managers to make profitable decisions consistently.
Choose OSCAR
With more than 25 Container and Roro Terminals worldwide, Ports use our Terminal Operating System OSCAR to gain a single view of their operations.
OSCAR
aims to unlock greater performance and helps to power the intelligent movement of goods through your terminal.
Our Terminal Operating System covers every aspects of your terminal operations.
From the administrative tasks to the field operations, our goal is to make every aspect of your terminal management easier for you. We offer all the features that you expect from a Terminal Operating System (TOS), such as container inventory, gate processes, electronic manifest uploads, yard planning, etc… However, we've also developped an hardware and software solution, compatible with many TOS : the TGIBOX. Thanks to the TGIBOX, you will be able to get a precise DGPS geolocalization of Container Handling Equipment, and of all equipements of your terminal.
Our primary concern is to make it as easy as possible for your maritime terminal to operate properly. We are aware that not all terminals are equipped with a TOS, and that protecting your data is essential for you. It is to meet these needs that we offer you our online hosting service.
For the past 4 years, we have been offering you the possibility to use our SaaS, a service that allows you to use our software online, without having to install it on your terminal's servers. Terminals such as Brest and Rouen already use this service, which allows them to take full advantage of our solutions at an attractive cost.
In addition, our hosting offer service gives you the possibility to secure your data by hosting a copy on our servers.

Gate management
Gate planning available for the receipt and delivery of containers, leading to a more fluid traffic on your terminal

Graphical yard visualization
Visualization and management of your container yard on a at scale and interactive map

Vessel Management
Optimization of vessel space allocation, quay crane planning and Crane Split automation

Centralized informations
Real-time data sharing so even last minute decisions are shared with everyone involved

Real-time indicators
Full visibility of your operations for cost-effective decision making

Workforce optimization
Employee productivity enhancement

Exchanges with third parties
EDI integrated module per standard formats (COARRI, CODECO, VERMAS, etc.) or based on your specifications

Dedicated customer support
Comprehensive managed service that combines technical support with continuous live monitoring, lifetime product maintenance and security monitoring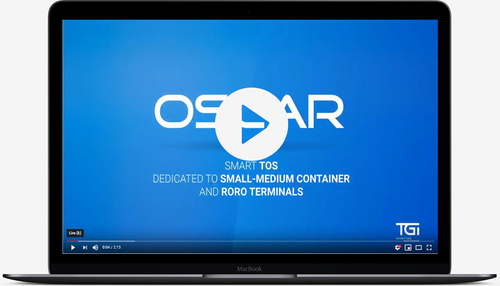 Ready to enhance your operational efficiency?
OSCAR is a smart Terminal Operating system built for small to medium cargo terminals.
Watch Video
We offer an adaptable Terminal Operating System
Every port and every terminal has vital differences, which may be small or large. That's why our solution is specifically tailored to your operating processes. The modular design of our Terminal Operating System OSCAR gives greater flexibility to meet your requirements and to adapt to your business progress.
Top five reasons to consider our Terminal Operating System
OSCAR enhances the operational efficiency of your container terminal and supports future growth while helping you to reduce overheads and focus on delivering the best possible service to your customers.
01
Simple integrated system
We offer a real-time view of all your activities across your entire terminal.
02
Fast implementation
OSCAR is user-friendly and easy to learn. We can train your whole team in a few days.
03
Flexible
OSCAR can be customized to fit
your business.
04
Business Intelligence
We help you make sense of all your data using our KPI dashboard.
05
Personalized Customer Support
Our support work side by side with the product, design, and engineering departments to improve the customer experience.